Naina Devi Temple Bilaspur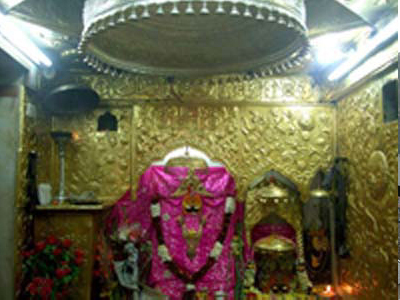 Surrounded by Govind Sagar Lake and Bharka Dam, the Naina Devi temple at Bilaspur is about 15 kms from Ganguwal and about 18-km from Anandpur Sahib. Like most of the Indian Shaktipeethas in the country, the origin of this famous and one of the most revered shrines also dates back to the self-immolation of 'Sati.' Nanina Devi as the name suggests is believed to be the place where the eyes of Sati fell.
History of Naina Devi Temple - Himachal Pradesh
The erstwhile king of the region, King Bir Chand is said to have built the temple to commemorate the fall. But there is yet another legend too attached to the temple that is also related to the king. During the reign of the Raja Bir Chand, Naina, an Ahir, used to rear cattle on the flat summit of a hill above Jand Bhari. He observed that his cows were voluntarily dropping milk upon a white stone. He informed the king of the event. The latter went to the place and found a beautiful image of goddess Durga, close to the stone. A temple was then built by the king, and is called Naina Devi today.
Having entered the main gate of the temple, devotees bow to Lord Ganesha and Lord Hanuman first. Two statues of lions at the main entrance of the temple guard it against all evils. Three deities are revered in the temple namely Mata Kali, two eyes of Naina Devi and Lord Ganesha. Devotees of Naina Devi undertake a walk of around half an hour up to this temple to have a darshan of their revered deity.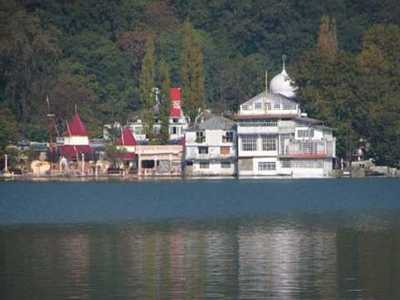 Resting at the top of the triangular hillock, the temple commands an awesome view of the holy Anandpur Sahib Gurdwara on the one side and the Gobind Sagar on the other. There is a very narrow and beautiful holy cave also in the close vicinity of the temple in the name of Shri Naina Deviji. It is customary for the devotees to visit this cave having visited the temple as without coming here, their homage to the deity is considered as incomplete.
Recently connected with ropeway, the temple is around 65 km from Bilaspur. Every year, a grand fair is held at the temple during Shravan Ashtami is held every year. Fairs commemorating the goddess are held here during Navratras also.

Hotels & Resorts
Featured Tours
Top Destinations