Kullu - its temples OR beauty and its majestic hills OR the end of the habitable world OR Valley of Gods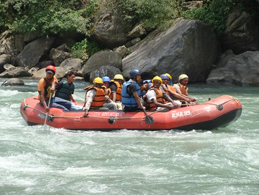 Kullu is a beautiful valley that can be spotted in Himachal Pradesh amidst the picturesque Himalayas, presenting you with a world full of natural charm. There exist numerous temples in Kullu that catch the eyes of tourists. Summers, mainly the time from April to June is considered to be the ideal time for visiting the Kullu Valley. Kullu Manali is one of the favorite honeymoon destinations and newly married couples do make it a point to avail Kullu Manali honeymoon packages. In addition to this, Kullu is a home to a series of tourist attractions that are an important part of any Kullu Manali package. You can go and enjoy the Kullu Manali sightseeing and explore an array of tourist attractions listed below:
Raghunathji Temple
This is a popular holy temple dedicated to Lord Raghunathji where the lord sits over his chariot. The temple dates back to the 17th century and its foundation was laid by Raja Jagat Singh. Lord Raghunathji is also considered to be Kullu's deity.
Akhara Bazaar
This bazaar is a well known and much frequented shopping area of Kullu. Here, one spots a number of shops where woolen shawls and textiles, rugs, pattoos, etc. can be found.
Basheshwar Mahadev Temple
This temple of Lord Shiva belongs to the 9th century and can be spotted at 15 Km distance from Kullu. The temple is in the form of a pyramid and inside the temple, you have a huge 'Yoni Lingam' idol, as a symbol of the lord and the goddess sitting together.
Kaisdhar
This is a much frequented picnic spot that can be reached by climbing over a steep hill. The place is a marked with a serene climate and the surroundings offer you amazing walks.
Sultanpur Palace
It is a wonderful spectacle in Kullu and is much admired for a number of miniature paintings that are more than enough to amuse you. The figures in the paintings suggest images of humans as well as the scenes of rural areas.
Bijli Mahaev Temple
This temple can be spotted at Sultanpur and is well known for its flagstaff. The residing deity of this temple is Lord Shiva and therefore, the temple contains a Shiva Linga. All the Kullu Manali tour packages offer you some of the most exciting tourist attractions that are quite close to various hotels in Kullu Manali. However, if you are in Kullu, then the Kullu Hotels are likely to enchant you through. Therefore, do make it a point to avail Kullu Manali packages in order to make the most of your Himachal tour. Truly, Kullu is a heavenly destination that deserves your visit.

Hotels & Resorts
Featured Tours
Top Destinations