Nalwari Cattle Fair at Bilaspur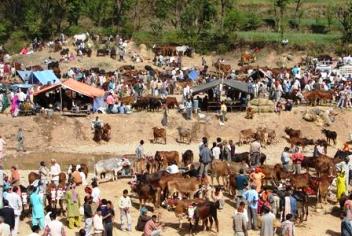 Bilaspur town of Himachal witnesses the four-five day long Nalwari or annual cattle fair each year in the month of March or April. In this festival, people enjoy wrestling and several other fun activities. Cattle are brought from Nalagarh and neighboring areas of Punjab, for this celebration. The owners across the country bring their beautifully decorated cattle to the spot because the time is supposed to be of very lucrative deals for them.
The Nalwari Cattle Fair of Bilaspur is considered among the most exciting events of the beautiful state. A large number of visitors come from far and wide to enjoy the excitement of the fair.Wrestling is an important part of the event and is among the many activities done in the around 5-day affair. The local athletes get a platform to showcase their gymnastic skills and physical prowess.
The cultural carnival held in Bilaspur displays not only the arts, culture and entertainment of the state but also the lifestyle of the society. In Nalwari fair, families along with children come to the spot and get engrossed in the cultural rendezvous and dramatic.

Hotels & Resorts
Featured Tours
Top Destinations