Chessu Fair at Rewalsar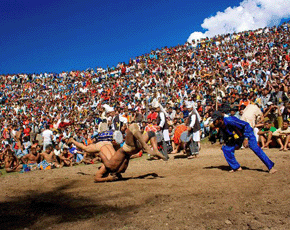 Chessu Fair or Tsechu Fair, a ceremony followed by Buddhists is celebrated in the month of March at Rewalsar town in Mandi district in Himachal Pradesh. Thousands of Buddhists from India and abroad assemble at the Rewalsar Lake in Mandi to celebrate the two-day Chessu Fair. The fair commemorates the birth anniversary of Guru Padma Sambhava, a sage guru from Oddiyāna, who meditated on the banks of the Rewalsar Lake for many years.
Later, Padma Sambhava went to Tibet from India via Nepal and transmitted Vajrayana Buddhism to Bhutan, Tibet and other neighboring countries in and around 747 AD. Further, he is considered an emanation of Buddha Amitabha and, traditionally, even adored as 'a second Buddha'.

Hotels & Resorts
Featured Tours
Top Destinations