Shivratri Fair at Baijnath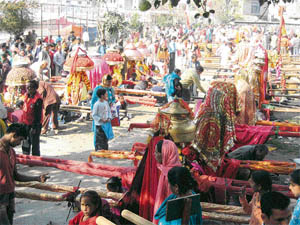 The week-long Shivratri fair is among the major attractions of Himachal. This international festival is held each year at the Shiv Temple situated at Baijnath in Mandi. Tourists as well as locals enjoy several cultural programs organized in evenings as well as exhibitions, sports, and many other activities during this fair.
The Shivratri fair of Mandi is held every year in the month of February or March. Thousands of devotees carry hundreds of gods and goddesses on the Palkiyan/Raths (Wheelless Chariots) amidst the traditional melodious tunes, entering the stylishly adorned Mandi town. On arrival, these deities first visit the shrine of Madho Rai and then they move to pay their homage to Lord Shiva at Baijnath temple. During the week-long entertainment program, the hill folk gets a platform to display their talents.
Located 16 km from Palampur, the elegantly built ancient Shiv temple can be spotted on the Pathankot-Mandi national highway. The 9th century AD temple is built of stones in the shikhara style, and is exemplifying the graceful blend of sculpture and architecture.
You can access the temple from both Palampur and Kangra, at ease. The sanctum of the temple enshrines the Linga that is one of the 12 Jyotirlingas in India. A large number of pilgrims come down the Baijnath temple to enjoy all the colors of the fair and festivities.

Hotels & Resorts
Featured Tours
Top Destinations