Dances in Himachal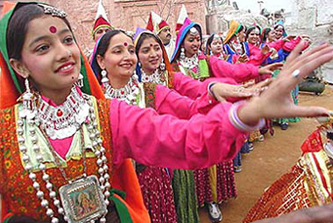 Himachal has a lot of communities which have evolved their own variations of the dances. Dances are an expression of joy and festive spirit . All festivals are celebrated with dance and music.
Different tribes in Himachal have their own different dances. Dance forms like Dulshol, Dharveshi, Drodi, Dev Naritya, Rakshas Nritya, Dangi, Lasa, Nati and Nagas are the popular ones. They come as a welcome break from the monotony of life.
Losar Shona Chuksam (Dances in Kinnaur) :
This dance is very popular among Kinnaurs. It is an agricultural festival dance performed by the Kinnauris in which the actions show all activities from sowing to reaping ogla (barley) and phaphar (a local grain). The dance also offers innovative pieces like mime are a part of this dance.
Dangi (Dances in Chamba) :
The Dangi is one of the liveliest women dances. It is performed at the Chhatrari village in Chamba. The song of this dance is like a question-answer session between the two dancing groups. The talk could be between a king and a poor girl he is in love with or between traders and so on. Sikri, celebrated during the Suhi fair held in spring is another dance. The song adores the beauty of flowers and the season, especially the flowering of the Marua flower.

Hotels & Resorts
Featured Tours
Top Destinations