Manali - Valley of the Gods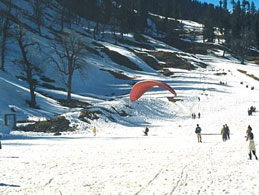 Manali can be spotted at a valley close to the National Highway which takes you to Leh. The existence of the serene River Bead adds to its overall natural charm. With stunning mountains covered with the blanket of snow, Manali gives you the pure heavenly bliss. Manali tour is chosen by several newly married couples who want to brighten their together moments and who want to explore what Himachal tourism has in store for them. Adventure freaks have reasons to rejoice as the Beas River lets you enjoy the sports such as Kayaking, rafting, canoeing, etc. Some of the major tourist attractions of Manali are listed below:
Tibetan Monasteries
Tibetan monasteries are numerous in Manali and one can also find a large number of Tibetan refugees here. Here you can find Gadhan Thekchoking Gompa whose foundation was laid in the year 1969. In this monastery, you come across a Buddhist statue as well as tinted frescoes. Moreover, there also exists a monastery named as Himalayan Nyingamapa Gompa. The monasteries are a must visit places providing you the essence of Buddhism.
Hadimba Temple
This temple is also referred as Dungri Van Vihar. The residing deity of this temple is goddess Hadimba and the temple is constructed in wood and contains four storeys. The entire temple's architecture as well as the wooden door is quite fascinating.
Rohtang Pass
This pass can be spotted at a distance of 51 Km from Manali and is considered to be one of the most amazing and attraction of Manali. In the vicinity, you find the beautiful Dasohar Lake as well as the origin point of the Beas Rivewr named as Beas Kund. Here, you have transparent and clean water that is completely chilled when you touch it.
Vashist Springs
These are the springs that that come out from rocks and are well known for their healing power as their water consists of medicinal properties. So, people do make it a point to bathe in these hot springs and let themselves bereaved of different ailments. This is a must visit site of your Manali tour.
Arjun Gufa
Arjun Gufa lies close to the Prini Village. It is believed that one of the Pandavas, named as Arjuna meditate here and in return received the amazing Pashupata Ashtra.
You can also opt for tours covering Kullu Manali or the tours from Delhi to Manali. As you reach Manali, you come across a series of hotels in Manali that provide comfortable and lavish accommodation. So, do make it a point to travel to Himachal and visit and explore all the Manali attractions.

Hotels & Resorts
Featured Tours
Top Destinations