Chail - The Mountain of The Silver Bangles OR paradise for hikers OR its architecture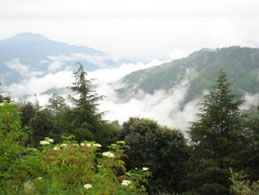 Chail lies close to Nature and can be spotted at an altitude of 2250 meters above the sea level. Its discovery and development belongs to Maharaja Bhupinder Singh. The hill station is 43 Km away from Shimla and is regarded as an extremely picturesque location. Moreover, there are three hills known as the Rajgarh Hill, Sadh Tiba Hill and Pandhewa Hill that enhance the charm of the Chail hill station and make it all the more appealing. Although the attractions in Chail are not numerous, but still there are some amazing attractions that are worth visiting. Moreover, tourists coming to Chail stay at the luxurious Chail hotels that are located quite close to the attractions. Some of the major Chail attractions are listed below:
Chail Palace
Chail Palace is a royal palace delineating the way of living of Maharaja Bhupinder Singh. The plalace is places over the hill top and is surrounded with rich Pine and Deodar trees. Presently, the palace is also treated as hotel where people can enjoy the facility of luxurious rooms, indoor sports such as billiards and tennis and provision of children's park.
Kali Ka Tibba
Goddess Kali is the chief deity of this temple and it lies on the Mountain Blossom. Not very far from this temple, there are hills named as Choor Chandni Peak as well as Shivalik Range. The temple gained its name from the name of Rajmata's Cottage and people can reach this temple while trekking.
Sidh Baba Ka Mandir
This temple lies close to the Pandhawa and Rajgarh hills. Maharaja has the wish of laying the foundation of a place here. But, in the middle, he received a dream in which a saint communicated with him and requested to put the construction to a halt as the place was considered to be extremely sacred by him since he had performed his meditation over here. The king did just what he was told and planned to build a temple here. The temple is much frequented by tourists visiting Chail and feel like exploring attractions in Chail.
Cricket Ground
Renowned to be the highest cricket ground in the whole world, the cricket ground of Chail deserves your visit. The ground lies at an altitude of 2,444 meters above the sea level. Presently, people use his ground as a playground and a ground for playing the sport of Polo.
Therefore, do make it a point to visit Chail to explore its various tourist attractions and make the most of your trip. Moreover, you don't have to worry at all regarding accommodation needs as the various hotels in Chail are ideal for the same.

Hotels & Resorts
Featured Tours
Top Destinations