Kangra - Dev Bhumi (the valley of Gods) OR tea capital of India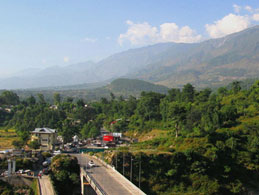 Kangra, considered among the most beautiful hill stations of Himachal, is famous for several historical events and temples. According to Indian history, the town was once the capital city of the Chand dynasty. In 1905, an earthquake destroyed Kangra badly, and was reconstructed in 1920.
The hill station of Kangra is popular because it is one of the most picturesque valleys of the lower Himalayas. Protected by the moving Dhauldhar hills, this valley gives marvelous space for several adventurous sports including trekking, rock climbing, mountaineering and fishing.
Being a legendary pilgrimage centre in the state of Himachal Pradesh, Kangra has lots of temples with their own historical significance.
Places to Visit in Kangra
Jwalaji Temple: The historic temple of Jwalaji brings lots of fame and large number of visitors to the place. The temple, dedicated to Goddess Jwalaji, is situated 34 km south of Kangra. The temple is famous for its miraculous natural flames that come out from nine different rocks, the only such temple in whole India.
Brajeshwari Devi Temple: Another tourist attractions in Kangra is the Brajeshwari Devi Temple. Mahmud Ghazni devastated this temple in 1009.
Kangra Fort: The Kangra Fort, situated 20 km away from the Dharamsala town in Kangra district, is also called the Nagarkot or Kot Kangra. Located to the south-west of the old Kangra town, atop a hill, the fort was constructed by Bhuma Chand, the founder of Katoch Dynasty. The fort is a must visit place if you are in Kangra.
Other important places of the beautiful hill station of Kangra, in tourism point of view, are Pragpur, Garli, Haripur, Dehra.
How to Access
Being easily accessible from all over the country, Kangra is well-connected by rail, road and air networks. Its nearest Gaggal airport is 13 km far, while other important airports are Jammu 200 km, Amritsar 208 km and Chandigarh 255 km from Kangra. Pathankot is the nearest Railway station, 90 km away from Kangra. Between Pathankot and Jogindernagar, 17 km far from Dharamshala, a narrow gauge railway line passes via Kangra. Moreover, Kangra is well-networked by roads. You may have an easy access to the town from the major cities by road.

Hotels & Resorts
Featured Tours
Top Destinations