Kinnaur - Land of fairytales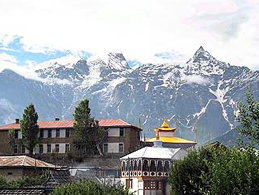 Kinnaur, placed among the most beautiful districts of Himachal Pradesh, owns lush green valleys, orchards, vineyards, snow capped peaks and cold desert mountains. Kinnaur's climate is known as most soothing for growing variety of fruits including chilgozas (pine nut), apples, almonds, peaches and apricots.
The region's local wine – Anguri – is popular throughout the country. Moreover, you can find various Alpine species such as Jupiter, Pine, Fir, Cypress and Rhododendron, as well as native trees like Oak, Chestnut, Maple, Birch, Alder and Magnolia, in the region.
Major Tourist Attractions
Rivers: Several rivers flowing in the Kinnaur Valley include the Sutlej which roughly splits the district into two parts. The second most important river in Kinnaur is Spiti.
Recong Peo Temple: Recong Peo is one of the most visited temples in Himachal, and is renowned for its Gompa where His Holiness the Dalai Lama did a 'Kalchakra' ceremony in the year 1992.
Karchham: Karchham, lying at an altitude of 1,899 meters, is popular among tourists owing to its scenic view. It is also famous for being a confluence point of the Satluj and Baspa rivers.
Kinnaur Kailash: Mountain Kinnaur Kailash is another most visited spot in the region. The mountain dominated by the Jonkarden (6473 Mts) and Kinnaur Kailash (6349 Mts), is a paradise for trekkers.
Sangla: Located on the right bank of Baspa river built on a slope of Kinnaur Kailash, Sangla (2,680 mtrs) is a major village of the Baspa valley. The spot is also renowned for 'Kamru Fort' of Kinnaur kings.
Rakchham: The name of Rakchham (2,900 mtrs), which lies on the right bank of the Baspa river, is derived from 'Rak' a stone and 'Chham' a bridge.
Kalpa: Kalpa (2,670 mtrs) is one of the major villages of Kinnaur district, and is connected by link road, 14 km away. Many ancient villages like Pangi, Moorang and Kanum are located in proximity with Kalpa.
How to Access
Kinnaur is well-connected by Air, Rail and Road network. The nearest airport is Jubbarhati, 244 km from Kinnaur. Regular flights are made daily to and from the major cities of the region. Its nearest Railway Station is at Shimla, 250 km away from Kinnaur. Furthermore, Kinnaur is also easily accessible by road as the major cities of Himachal are well-networked by regular buses and taxis. Located 250 km from Shimla, the hill station is well-connected by the National Highway No. 22.
Accommodation in the Kinnaur region is easy as a number of hotels ranging from budget to luxury are available here.

Hotels & Resorts
Featured Tours
Top Destinations