Lahaul & Spiti - land of lamas OR little Tibet OR Country of the gods OR The Land of haunting and unforgettable beauty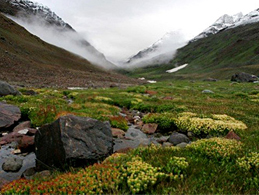 Lahaul and Spiti, famous for its heritages and ancient places, district in Himachal Pradesh was made in 1960 through the merger of two different districts where Kardang was Lahul's capital and Dankar was Spiti's capital.
Tourists visit this place to see the marvelous snow-capped peaks, deep gorges, lush green valleys, swiftly flowing rivers, striking mountain lakes and wonderful temples and monasteries. You can visit Lahaul and Spiti also for relaxing, sightseeing, trekking, mountaineering, fishing, paragliding, skiing, ice-skating and golfing.
Major Tourist Attractions
Rare Animals: Visitors come here to see variety of rare animals like Tibetan antelope, Tibetan argali, Kiangs, musk deer, and snow leopards.
Guru Ghantal Monastery: Guru Ghantal Monastery is the oldest monastery in the Lahaul valley. The monastery is made up of a wooden structure with pyramidal roof. You can enjoy the annual festival of Ghantal, celebrated in mid June with full of excitement.
Keylong: One of the most visited tourist attractions here is Keylong that is the district headquarter of Lahaul and Spiti.
Gondla: Another tourist attraction near Lahaul and Spiti is Gondla that provides you the view of royal heritages. You can see here the eight-storied residence of the Thakur of Gondla. This famous heritage, called as the Gondla Castle or Gondla Fort, was built in the 17th century.
How to Access
Lahaul and Spiti is well-networked through Rail, Road and Air transport. The place is well-connected through the roads with major cities of Himachal, such as Manali, Pangi and Leh, among others. You can use buses and taxis from the above cities to reach Lahaul and Spiti. You can also reach the place from Shimla via Kinnaur. You may reach Lahaul and Spiti from Manali via Rohtang Pass.
Accommodation is not a problem in Lahaul and Spiti as a number of hotels ranging between cheap and luxurious are available here and you can use them according to your requirement and budget.

Hotels & Resorts
Featured Tours
Top Destinations