Palampur - its picturesque and snow clad mountains OR Tea Capital of North India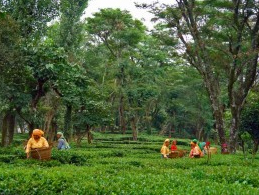 Sprawling over the Kangra Valley slopes, Palampur is blessed with the picturesque beauty of the Dhauladhar Ranges. The mild climate here puts more stars in the excellence list of the place. Palampur is known as the tea capital of the northwest India.
The name of the place is derived from 'Palum' which refers to abundant water, to mark the Palampur's feature of containing plenty of water. The topology of the place ranges from plains to hills to valleys to mountains. The place is a haven for adventure buffs who can participate in various sport activities like trekking and hang-gliding. The major tourist attractions of the place are several temples, buildings marked with colonial architecture and paddy fields.
Major Attractions
Bir and Billing: Sports freaks find Bir as a major spot for para and hang gliding. Interspersed with mountains and tea gardens, this place provides a gorgeous and relaxing sight to visitors. Buddhist monasteries and Tibetan handicrafts are other main attractions of the place. Billing is the perfect spot to perform aero sports.
Neughal Khad: Giving path to the Neughal stream, Neughal Khad is a chasm like area with a width of 300 mtrs. Lying in the environs of the Bundelmata Temple, the spot is considered as must visit in Palampur.
Chamunda Devi Temple: Lying 25 km from Palampur, Chamunda Devi Temple is an abode to the residing deity Godess Chamunda. Tourists can stay in the temple as it offers the Yatri Niwas (Night Shelter).
Baijnath Temple: Lord Shiva Vaidyanath resides in the 804 AD Baijnath Temple. Carved in stone, the temple is built in shikara style. The temple's Shiv Linga is worshipped as one of the 12 Jyotirlingas.
Andretta: Tourists have an opportunity to view the lovely Andretta village, 13 km from Palampur, in the vicinity of wooded hills and the Kangra Valley plains. Sardar Sobha Singh, a famous painter, once resided in the village which is now known as the hub of various artistic activities.
How to Access
Palampir is well-networked with Air, Rail and Road transport. Moreover, you can find easy accommodation with a line of hotels ranging from cheep to luxury, as per your requirement and budget.

Hotels & Resorts
Featured Tours
Top Destinations