Paonta Sahib - Space for a foothold OR its Sikh pilgrimage centres
As sacred town built in the memory of tenth Sikh Guru Gobind Singh, Paonta Sahib is renouned for its religious character, making it major holy place for Sikhs. Paonta Sahib, located on the banks of River Yamuna, is a busy town with developing industries.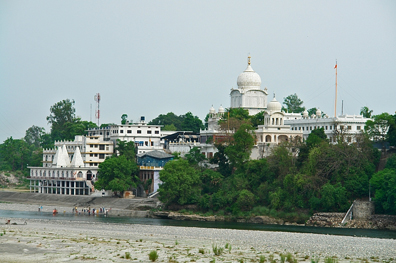 There are two versions of beliefs in terms of the origin of the name of the place. One of the versions says the name is so because Guru Gobind Singh set foot, which means "Paonta", on this place. According to another story, he lost an ornament, called "Paonta", worn on his foot when he was taking in the River Yamuna, hence the name is so.
The old capital of a princely state is a legendary town because it contains the ruins of the golden days. Its religious significance and historic clues make it a worth visit place for national and international tourists.
Major Attractions
Paonta Sahib Gurudwara: You can see the tangible memories of Guru Gobind Singh, like his weapons at the majestic Paonta Sahib Gurudwara which also facilitates accommodation to visitors.
Sirmouri Tal: The ruins of Sirmouri Tal are believed to be telling the story of the destruction of a king and his royal house due to the curse of a court dancer when the ruler declined from his words of giving her half of this kingdom if she had crossed a narrow gorge on a rope.
Vishawkarma Temple: Vishawkarma Temple along with some other Hindu temples is also part of the tourist interest.
How to Access
Paonta Sahib can be reached from Nahan (45 km) through the regular bus service connecting both the places. You may approach the place through road transport from Dehra Dun (45 km), Haridwar (117 km) and Shimla (180 km).

Hotels & Resorts
Featured Tours
Top Destinations